Paul Solomons popularly known as Daftoons has been part of 123Greetings Studio for almost 6 years now. Being a freelance cartoonist and flash animator by profession his work has been appreciated worldwide. Apart from creating ecards, he makes animated messenger content, smileys, TV/video sequences as well as cartoons and illustrations for newspapers, magazines, books and more.
His fascinating work and ability to bring life into his ecard characters is what makes his work so inspiring. Paul handcrafts every element of his card, from characters, background, animation, typography, messages to music. Every card is so unique; it makes one marvel at his creative genius.
His passion for creating ecards and versatility makes him top artist of the month consistently and has helped him achieve over 75,000 Global sends each month in the last quarter.
Studio did a Q&A with Paul to know all about his journey and how he came this far. Read on and get inspired!
Studio: How did you get into graphic designing and animation? Tell us about yourself.
Daftoons: As a young child I loved drawing, particularly cartoons. However, I didn't pursue art at first. Instead I worked for a short time in the legal profession, intending to qualify as a lawyer. But the draw of the arts was strong and before long I left the firm and became a music promoter and musician. My wife was a teacher and at that time I was a musician, so it made sense for her to keep her job while I stayed at home looking after our son. I tried to find something I could do at home to help with the bills. I decided to send a few cartoons off to newspapers and to my surprise, they started accepting them. Other cartooning work began to trickle in and one day a client asked if I would do some animation for him. My PC, back then came with some very basic animation software, so I said I would give it a try. It was a joy to see my characters moving and even though I wasn't very good at it, I was inspired to work hard to learn the techniques of the old animation studios. The breakthrough came when I started working with Macromedia Flash (now Adobe Animate). I could make animated cartoons in a fraction of the time that I had previously been able to using traditional animation. Subsequently, I was approached by a company to make content for their Messenger service. For the next 2 years I made hundreds of winks (short animated gags and messages), Dynamic Display Pictures (animations with moods, controlled by message content) and sets of smileys/emoticons. I also started making ecards for my own site and others. Nowadays I split my time between animation (ecards, of course, but also music videos, entertainment shows and corporate videos) and static cartoons for newspapers, magazines and corporate clients.
Studio: Who/ Where do you draw your inspiration from?
Daftoons: As a huge fan of classic cartoons, I take most of my inspiration from the old Looney Tunes, Disney, MGM and other great producers of animated shorts and features. Of course, for ecards, keeping file size to a minimum is important, so I'm greatly inspired by William Hannah and Joseph Barbera's use of "limited animation" which, by using strong poses of their characters, allowed them to only move an arm or a mouth and still achieve a believable character. They used it to great effect in The Flintstones, Scooby Doo and most of their TV shows.
I'm also a big music fan and particularly enjoy vocal harmony and doo-wop. So putting harmony vocals into an animated ecard is a joy.
Studio: How do you plan your cards every month, i.e. what's your thought process behind picking categories for each month?
Daftoons: My category choices are largely guided by what events are looming in the following month. I spend a lot of time creating each card, so I tend to mainly work on those for the more popular/ well-known occasions. Of course, birthday ecards are my favorite category.
Sometimes a card idea just appears from nowhere. Inspiration can hit at any time – often while I'm in bed or driving, so I've always got a notepad and pen with me. Experience has taught me never to trust my memory.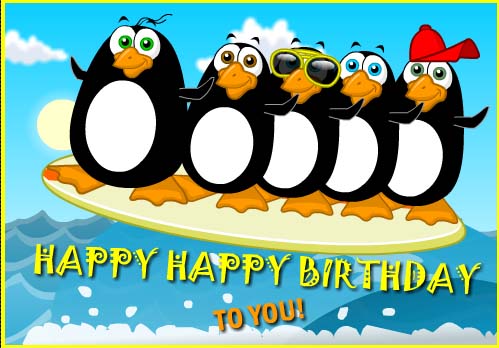 'The Beak Boys Birthday Song' achieved a whopping 387,272 sends and is still performing exceedingly well. Do click on the card above and view to see how beautifully Daftoons blends all his elements to create that one hit card.
Studio: The characters you create for your card are fun and fresh. Which software do you use to create these characters?
Daftoons: I tend to start with good old pencil and paper and draw a few character design ideas before choosing which one I'm most drawn towards (no pun intended!). You tend to animate to a soundtrack, so sometimes I will record the dialogue or song (I use N-track Studio for this) and then sketch characters that I feel will fit the voice.
Once I've decided on the general look of a character, I do all the rest of the design work in Adobe Flash CS6, pulling around shapes and building the various body parts, props and backgrounds before assembling it all into the final animation. Adobe has now updated Flash to the new Animate, but it doesn't support Action script 2 – a vital ingredient for coding our ecards, so I still use the old version.
I have used Adobe After Effects for some of my video ecards, but Flash is definitely my main tool.
Studio: How do you decide on the background and color combinations?
Daftoons: I try to make my characters sit nicely in their environment. It is important that the viewer's eye is drawn to the action (usually the character), so whilst my backgrounds and props are created in the same way as my characters, I tend to design them without an outline. That way the character with strong outlines is easy to identify.
Sometimes I will change colors several times before I settle on a combination that has the right balance between foreground and background objects.
As for colors in general, I like them to be bright and vibrant and once again take my inspiration from the classic cartoons, mostly from the 1950s and 1960s when colors became more solid.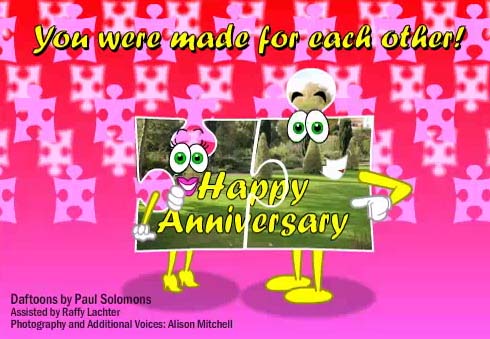 A cute, romantic and funny anniversary ecard by Daftoons. His ability to send across wishes in humorous ways and create a storyline around his characters is what makes his creations fascinating. View the card above to know what we are talking about.
Studio: Which software do you use to create animation? What software/ tools would you suggest to visualizers to help better themselves?
Daftoons: As mentioned above, I start, finish and do everything in-between in Adobe Flash. I love the software and even when I am working on music videos and longer animations, I do all the animation work in that one program.
Some people like to create the elements that will be used in their animations in other packages like Photoshop or Illustrator and that's great, but I have used Flash for so long that I can create objects in it in a fraction of the time it would take me in those other packages.
As for which tools to use for animation, there are lots out there – Flash, After Effects, Toon Boom and more. They are all great if they work with your style and allow you to create what you want without getting bogged down with technology. I dabbled with 3D animation for a while but found that I was spending far more time on the technicalities (patches, bones, kinematics, etc.) and I wasn't working with the passion that I feel when putting together 2D cartoons. Flash allows me to concentrate on getting my story or song across.
Studio: What keeps you motivated?
Daftoons: I love my job. I have a real passion for cartoons and animation and always wanted to create toons of my own. 90% of the job is about thinking of ideas and there is something wonderful about that "Eureka" moment that occurs when the random fragments of ideas form into something that you know can work. Then, when it comes to life, it can be very exciting.
Of course, my main motivation comes from chasing the idea that will really capture the audience's imagination. To this day I can't be sure which of my creations will be successful and which will just grind along painfully slowly. Part of the excitement comes from launching a card and watching how it is received.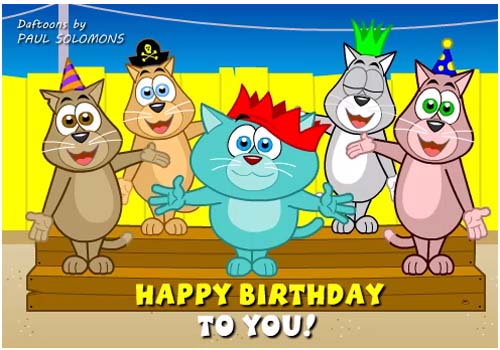 His latest creation is a group of cats singing a fun birthday song. Apt music, high quality images and a colorful background with perfect typography makes this a perfect one to send out to family and friends on their special day.
Studio: The messages in your cards are fun and out of the box, your typography is something which can inspire all young and new artists. Share with us a few ideas on how to craft eye catching and crisp me to you messages.
Daftoons: I draw weekly jokes and comic strips and find that scripting ecards is very similar to writing for those. Messages need to be short and crisp. Never use 10 words when one will do. I find that online Thesaurus and websites like www.rhymezone.com can really help when you are struggling to come up with that one word that says it all.
I think that it's also important to remember that we are carrying a message from the sender to the recipient. Whilst characters can say "Happy Birthday" or whatever, I like to try to make it clear that they have a message for you, suggesting that they are delivering it on the sender's behalf.
I think it's important to write to your strengths. I like humor and wordplay and try to use those elements in my cards. However, I also know that I'm hopeless at lovey-dovey, romantic messages and there are some real experts out there on the 123Greetings team, so I steer clear of it.
This brings us to the end of the interesting and informative Q&A we had with Paul.
We would like to thank him from the bottom of our hearts for sharing his experiences and ideas with us and all studio visualizers. We are truly honored and proud to have him as part of our Artist Community and look forward with excitement for his new creations.
We hope this blog inspires all you folks out there to dream more and achieve higher. Follow your passion and sky is the limit!
Keep designing and shining!