With more than 252 cards coming in this year for Christmas, we were happily surprised and excited to see the Christmas spirit has had its effect on all our artists. We also welcomed some new artists on board whose work we will be showcasing below.
From lovely video cards, to touching gifs and postcards we had them all from our talented and innovative artists. But this year we decided to showcase some of the postcards and gifs which touched our hearts and captured the essence of Christmas in a single frame.
Here are the postcards and gifs which truly say more in less.
Christmas > Merry Christmas ecard by Elinicm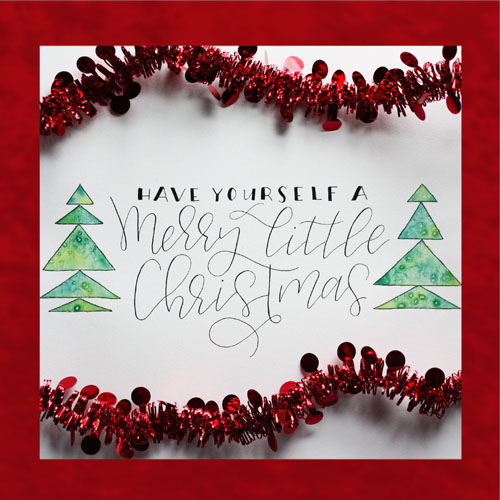 A simple white background adorned with Christmas decorations and trees makes the card a wonderful one to send out to family and friends this Christmas. Choice of two different font styles for the message makes the card stand out. Note the use of water colors on the Christmas tree to highlight them and make them noticeable.
Christmas > Merry Christmas ecard by SanqunettiDesig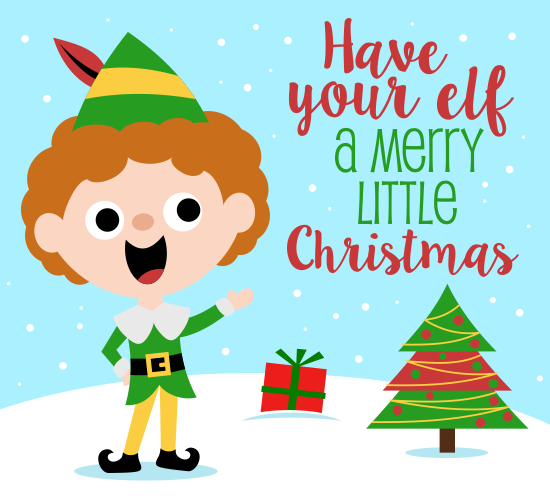 SanqunettiDesig is known for her creative illustrations and typography. Her knack to craft fun me to you messages and clean illustrations makes every card stand out. Capturing the fun spirit of Christmas and winter, she creates a cute card for users to send to their loved ones.
Christmas > Love ecard by poppies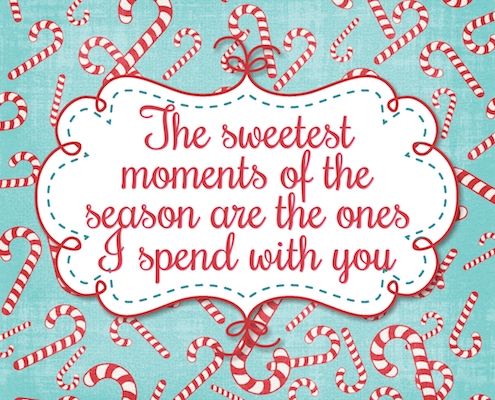 Christmas and holiday season is also the time for love and romance. Depicting love with candy canes, poppies creates a sweet and romantic card which users can send to their special someone. Expressing heartfelt feelings with one simple line is what makes this card so special.
Christmas > Goodies ecard by Bunnieclaire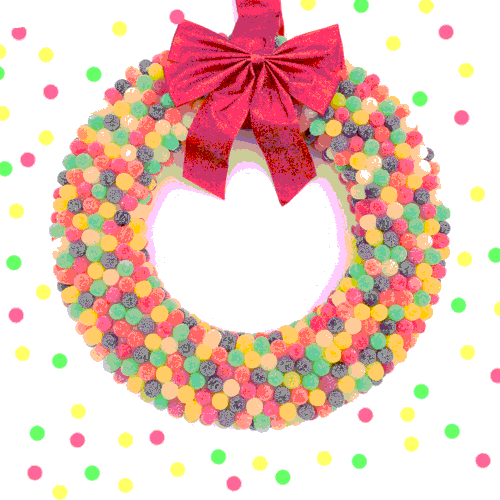 Christmas is associated with sugar candies, cookies, chocolates and all the lovely goodies. Bunnieclaire uses her imagination to create a Christmas wreath out of sugar candies that looks absolutely lovely! The card brings out the child in us and makes us want to send one to our bestie immediately.
Christmas > Goodies ecard by greydejesus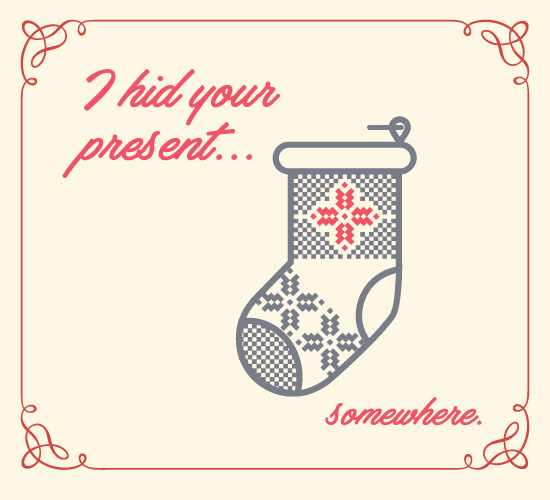 Socks and Stockings are a part of most Christmas gifts. Our parents and relatives also hide our presents in them. This ecard by greydejesus symbolizes all those special moments one shares with their near and dear ones.
Christmas > Hugs ecard by AlmondTree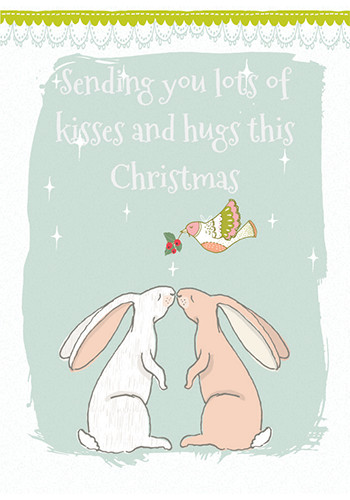 Kissing under the mistletoe has been an old and loved tradition which has been carried forward for years to come. Depicting this romantic gesture in the form of bunnies makes AlmondTree's card standout and one of our top picks.
Christmas > Santa Claus ecard by greydejesus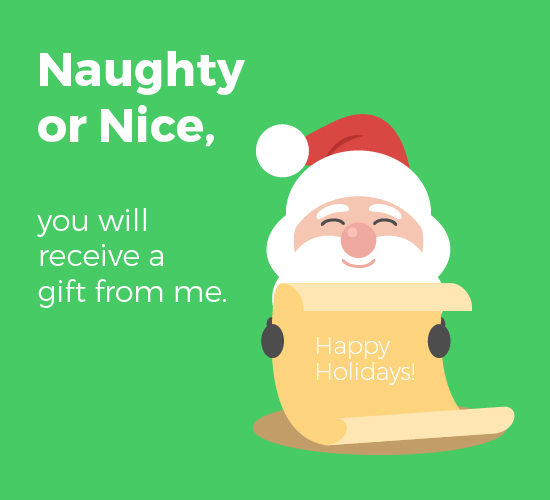 This Santa Claus ecard by greydejesus is one of our favorites. Users will have at least one person in their lives that they love dearly and will definitely go out of their way to gift them this Christmas. This card captures those emotions and helps users remind their special someone that they are their Santa Claus!
Christmas > Family ecard by poppies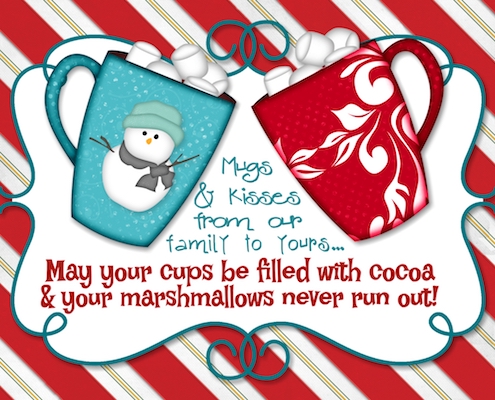 Christmas, holidays and winter are all time to get together with family and spend quality time with them. Drinking hot chocolate and eating marshmallows by the fireplace are some of the things which one always loves to do with their family. A perfect combination of clean images and touching wishes from one family to another is why we chose this card.
Christmas > Friends ecard by GrayDreams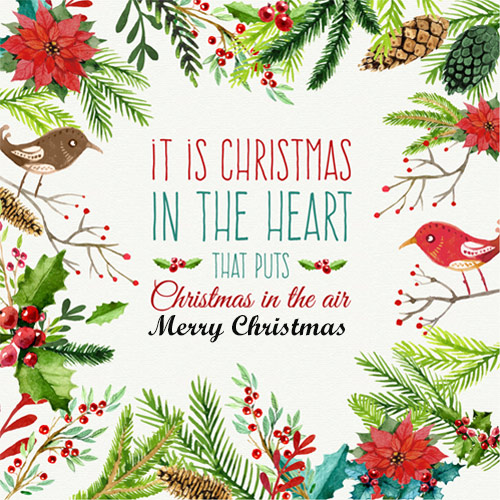 Christmas time spreads warmth and joy all around us. The spirit of Christmas is enhanced when we spend our time relaxing with friends and creating memories for a lifetime. This card depicts the emotions well and helps users to send the card to their dear buddies.
Christmas > Santa Claus ecard by WinaiNamwong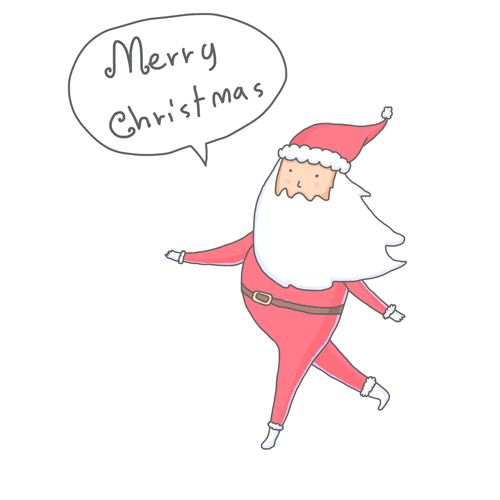 What better than Santa Claus himself wishing you all the joys of the season and a Merry Christmas. A simple card with a single message to win the hearts of all our users!
That's all folks!
We hope you all enjoyed seeing our Christmas postcards pick and felt motivated to create some cards of your own.
Don't forget to market your cards well and across all your social media platforms to gain visibility for your cards and achieve high sends and earnings.
From all of us at Studio, we wish you a very MERRY CHRISTMAS!