New Year, New You
As New Year's celebrations around the world draw to a close and the last of the Holiday Thank yous are done with, we have already begun to question our new resolutions! Did you know that 25% of New Year's resolutions are broken by the second week of January? Yes, that is this week. We at Studio have outlined a few tips to help you hold onto your goals for a little while longer.
The first thing to setting any goal is to make it SMART! S-Specific, M-Measureable, A-Achievable, R – Realistic and T-Timely. This will help you think about the process and also break the task down to steps. Whatever the goal, rather than doing everything in extreme for the first few days and giving up, start small. Doing too much too soon will make you resent your goal and less likely to stick to it.
Next is to reach out to your support system. Share your plans with family and loved ones. Consider joining a group of like-minded people. Having someone around to share your victories and mistakes makes the journey much easier. Talk about your goal. Telling people you want to master a new design tool, learn a foreign language, run a marathon, will make you less likely to give up halfway.
Finally, reward yourself! Planning an incentive each time you hit a milestone is a great way to push yourself to get there! Focus on the process, the journey rather than the destination is usually much more effective.
Sounds do-able right? Now that you know how to stick to your goals, here are a few that we think as Studioators should be among your goals for 2018.
Keep updated. Look to constantly up your skills. If your forte is making postcards, look at learning how to convert your cards to gifs or even videos. There are a whole host of videos that can show you step-by-step how to do this. 2018 is NEW! What better time than now to shake things up a bit and explore new styles and looks for your cards. Not only will this maximize your creativity, it will also bring variety to your portfolio. Refer to our blog from last year on Rising Design Trends. Finally, put more focus into bringing visibility to your portfolio. Go back to the webinars we had last year to review what else you can do to showcase your work to the world. Links below:-
Search Engine Optimization
Social Media Marketing
It is of course natural to want to create cards only for events that are big and more likely to bring you lots of sends but the smaller, more quirky events are where you can actually experiment. Check out the calendar at the start of each month and pick a couple of events that you haven't created cards for before. This will force you to think outside of your comfort zone. Create cards in January for Whisper "I love you" Day or Compliment Day or even Fun at Work Day and show us the diversity you are capable of.
Invitations Contest Results
In other news, there were some fantastic entries to our Invitation cards contest and given below are the winners.
Birthday ($20): Onbothsides
Save the Date ($20): Onbothsides
Business & Formal ($15): Poppies
Parties & Entertaining ($15): SandraRose
Celebrations ($15): SandraRose
Thank You ($15): Bebestarr
Do check out the Save-the-Date winning entry by Onbothsides that was super popular on social media as well!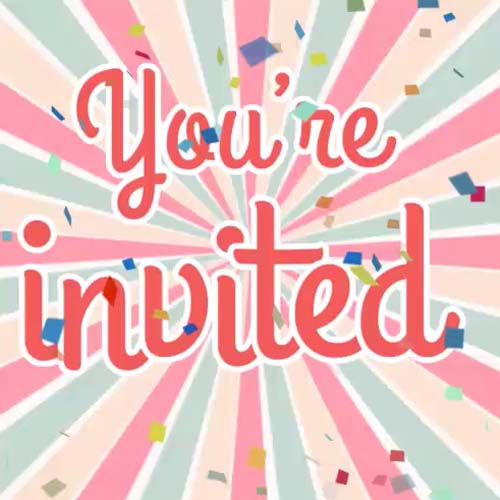 If creating more and more ecards was not one of your resolutions, well just put it down now. Our contest for inspirational cards is on till the end of this week – and sshhhhhh we will be launching another one very very (VERY) soon so keep checking in to the Studio Blog!
Until then… Get creative!!